View your upcoming FollowUpThen reminders directly on your calendar. This is is a great way to keep track of your followups, plan time-sensitive tasks and visualize your schedule.
Note: This feature is only available on paid plans. View upgrade options. 
How It Works
Nearly all modern calendar systems can subscribe to an external calendar feed. You calendar uses this subscription to periodically pull events into your calendar.
Note: Recent changes to your followups may take some time to appear on your calendar. Different calendars refresh feeds at different rates. Google Calendar, for example, only refreshes once every several hours, while iCal on OSX provides an option to refresh as frequently as every 5 minutes.
Setting It Up
If you are already have a paying FollowUpThen subscription, head over to your calendar settings page and try clicking the link provided. If your computer's calendar is already set up, this is all you may need to do.
If that doesn't work, open your calendar and look for an option to "subscribe to a calendar", or "add a calendar by URL".
Because many of our users are on Google Calendar, we've provided instructions for this platform below:
Using with Google Calendar
Step 1
Copy the URL in the input box above.
Step 2
Open http://google.com/calendar and find the Add by URL button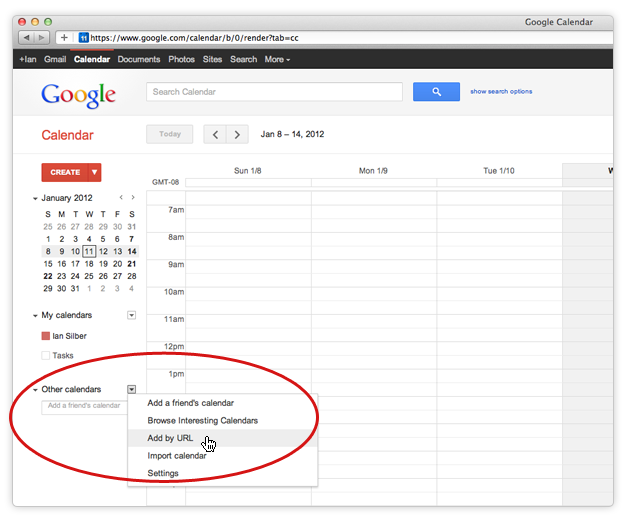 Step 3
Paste the URL into the textbox that appears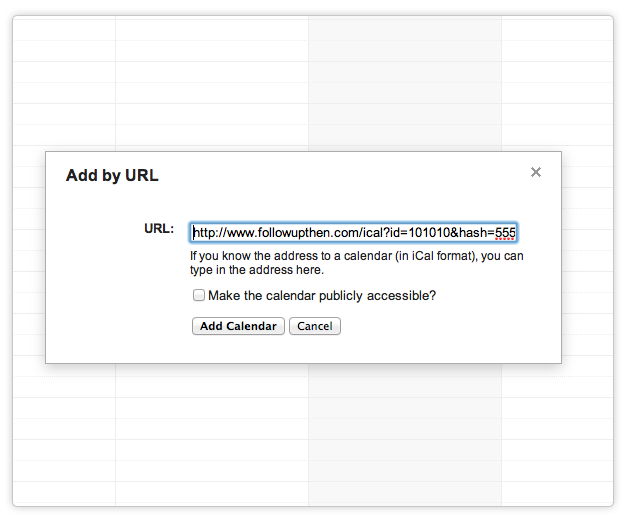 Step 4
After clicking Add Calendar, you should see your followups in your calendar. Google offers some extra configuration options under Other Calendars > Settings.